Yves Robert, Bruno Chevillon, Cyril Atef
Captivate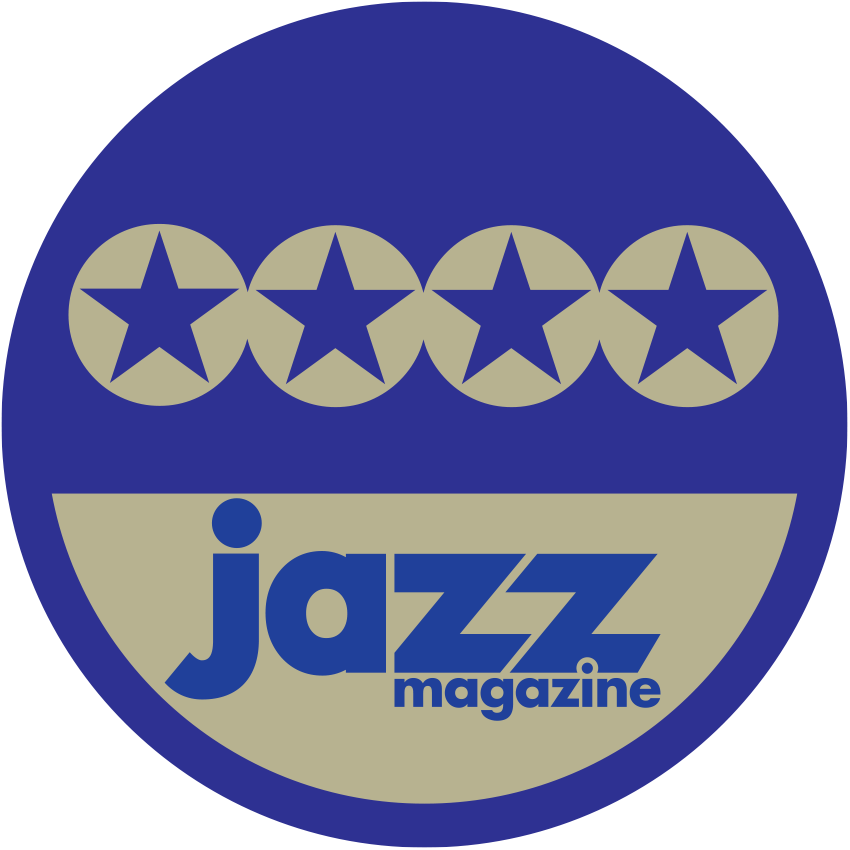 Knowing how to let go. Reaching the point where skill and virtuosity are incorporated to the point of no longer requiring the least effort. This threshold where extreme acrobatics no longer inhibits the abandon to unforeseen impulses, the sudden desire to caper around or stay immobile, listening to the hills.
---
Artists
Yves Robert – trombone, IT (Usine software)
Bruno Chevillon – electric double bass, electronics
Cyril Atef – drums, electronics, vocals
---
About the album
Compositions by Yves Robert (1, 2, 3, 8, 12, 14, 15, 17); Cyril Atef (5); all other tracks by Yves Robert, Bruno Chevillon and Cyril Atef
Recorded by Viktor Szabó at BMC Studio, Budapest on 21-23 June, 2018
Edited by Yves Robert
Mixed and mastered by Viktor Szabó
Artwork: László Huszár / Greenroom

Produced by László Gőz
Label manager: Tamás Bognár
YVES ROBERT | Photo: Krisztina Csendes
BRUNO CHEVILLON | Photo: Krisztina Csendes
CYRIL ATEF | Photo: Krisztina Csendes
YVES ROBERT, BRUNO CHEVILLON, CYRIL ATEF | Photo: Krisztina Csendes
CYRIL ATEF, BRUNO CHEVILLON, YVES ROBERT | Photo: Krisztina Csendes
---
---
Yves Robert, Bruno Chevillon, Cyril Atef: Captivate
01
j'ai raison, l'ordinator / I'm Right, Computer
4:18
02
dans les bras de morphing / In the Arms of Morphing
1:39
03
moins que rien, plus que tout / Less Than Nothing, More Than All
2:28
04
pour tout au plus rien au monde / For Everything and Nothing in the World
2:16
07
vibre chaud / Hot Thrill
2:22
08
embrasser mon tuyau / Embrace My Tube
2:06
09
puis souffler sur la braise / Then Blow on the Embers
1:03
10
respirer 3000 virus par seconde / Breathe 3000 Viruses Per Second
1:55
11
l'eau qui rêve / Water that Dreams
1:37
12
le sperme du diable est froid / The Devil's Sperm Is Cold
4:58
14
changer d'habit comme de chemise / Changing a Habit Like a Shirt
4:00
15
algorythmique de danse / Dance Algorhytmic
2:23
16
perdre le paradis et 75 cheveux par jour / Losing Paradise and 75 Hairs a Day
1:48
17
à genou les puces / On Your Knees, Chips
2:00
18
débarrassé du jésuschrisme / Free of Jesuschrism
4:29
19
gagner 20 millions de cellules par seconde / Gaining 20 Millions Cells a Second
3:19
The album is available in digital form at our retail partners
---
---
in English
(find original French text below)
Knowing how to let go. Reaching the point where skill and virtuosity are incorporated to the point of no longer requiring the least effort. This threshold where extreme acrobatics no longer inhibits the abandon to unforeseen impulses, the sudden desire to caper around or stay immobile, listening to the hills.

Infatuations: that of our ears instantly captured, captivated; that of the three partners reunited here, the trombonist Yves Robert, the drummer Cyril Atef, and the double bassist Bruno Chevillon, themselves bewitched by the infinite sound possibilities of their instruments. Spellbound in the strongest sense: magnetized by sound and its substance, its seed, its bite, its dough, which they work on with joy, mixing, kneading it, whipping it around, folding and refolding it, as if by dint of the grinding triturations they were able to reach out and touch its very mystery.

In these 19 tunes there is something of the wonderment of childhood. Something of the carefree, sunny joy of three kids having fun playing around freely with their breath, their fingers, and their immediate understanding. And it is a miracle, after so many years playing, to have so much childhood within you. The pieces are short, between one and three minutes in general, five or six at most. With the very first attack, a world is set down, a course is laid out, a pulse is taken. It is infinitely structured. And infinitely precise. And at the same time it is always seeking, exploring, digging, tinkering, having fun, exploding, laughing.

It is sometimes said that writing is a way of projecting your voice to the interior of a cave whose dimensions and shape are as yet unknown: projecting it in order to listen to how it comes back, to discover how it sounds, how it resonates, to try and understand what it is, this shout you have released. In the same way, the accomplices here launch asteroids of rhythm and sound that we hear passing the pavilion of our ears, going to strike our entire cortex, to accelerate our pulse. The trombone quakes, vibrates, throbs, caws, gurgles, gargles, yelps, sizzles, rasps, and slogs away. At times you hear it enjoying going along for a while with the double bass and the drumkit, flirting on the side with rock, pulling out, suddenly awakening a rhythmic fire worthy of a carnival, to become cunning, smiling, almost like a fanfare.

And then suddenly again it gets derailed, distorted, the thirst for surprise and experimentation takes the upper hand once more. Long-held notes against the background of the double bass and the drumkit skimmed lightly with a brush. Helicopter blades passing. Melancholy brass instruments emitting long notes, suddenly twisting the sound with a sadness that is splendid, slow, pulsating, restrained. Always transformed. Metamorphoses. Ruptures. Reversals of tempo, sudden halts. Hallucinatory, dreamlike lentos. Then setting off anew in crescendo all the way to ecstasy.

"And if I attack like this?" "What if I speed up here?" "If I brake suddenly?" "You daring me?" "You don't dare?" "You're on!" Each time it's like a beep that one gives to the others, setting them a challenge, stimulating them. Childhood, always childhood. Even the titles, which tell of modern life brushing joyfully with the absurd, and as the album proceeds, drawing a self-portrait as a musician brimming over with charm and humour. The contemporary world is there, everywhere: computers, viruses, hair falling at the rhythm of 75 a day, everything that would match with blues if the artist were not in possession of the only asset worth having, the only reason for life: freedom.

Ah, to bring chips and computers to their knees! To be free of "jesuschrism"! With a joyful fervour, a virtuoso humour, the music of Yves Robert plays. With the melancholy of someone who knows there is no other paradise.

Sylvain Prudhomme

Born in 1979, author of novels and reports, an enthusiast of West African music of the 1970s and 1980s, in his book Les grands (Gallimard, 2014) Sylvain Prudhomme recounts the journey of an old guitarist through the back-streets of today's Bissau, forty years after independence, against a background of revolutionary ideals and disappointed hopes.

Translated by Richard Robinson


YVES ROBERT Born in 1958, he has been roaming the fields of music (written, improvised, visual, and scenic) for nearly 40 years. Gifted with great technique, with an accurate and dynamic tone, he plays the trombone with spirit and freedom. His sweeping style unites melodies and playful musical textures like so many stories nourished by sound images.

BRUNO CHEVILLON, the most graphic of double bassists, both rapid, accurate, and powerful in the low and high registers, an impressive pedigree.

CYRIL ATEF, a spritely and cheerful drummer, prince of relaxed tempo and ultra-accurate, a kind of living encyclopoedia of global and interstellar groove.


This trio is about 20 years old: we know no more, nor do we wish to, there is no birth certificate. It's like evidence of familiarity and the instant confidence in sound. With us, all musical intentions are listened to and taken into account.
Melodies criss-cross, rhythms and modes of playing respond to one another, with suppleness and liberty. Of course we can change, according to mood, to desire, and we don't deny ourselves that. Among friends we manage, we manage and arrange the pieces, we smash them up and glue them back together, we exaggerate, and we like doing that.
The important thing is the intensity of the moment, the pleasure of surprise, the feeling of playing, and the sound, which emerges from the instruments and envelopes us.
That's why we use electronic effects, digital audio techniques: to envelop us. To knead the dough, and stretch it towards the incredible, the unheard-of.
To surpass the instrument with jubilation. To intensify the sense of being.
To play music is to celebrate the absence of paradise.

Yves Robert


---
En français
Savoir lâcher prise. Atteindre ce point où la maîtrise et la virtuosité sont incorporées au point de ne plus demander le moindre effort. Ce seuil où l'extrême acrobatie n'empêche plus l'abandon aux impulsions imprévues, l'envie soudaine de cabrioles ou de station immobile, l'écoute des pentes.
Fascinations : celle de nos oreilles instantanément captées, captivées ; celle des trois complices ici réunis, le tromboniste Yves Robert, le batteur Cyril Atef et le contrebassiste Bruno Chevillon, eux-mêmes ensorcelés par les possibilités sonores infinies de leurs instruments. Fascinés au sens fort : aimantés par le son et sa matière, son grain, sa morsure, sa pâte qu'allègrement ils travaillent, malaxent, pétrissent, fouaillent jusque dans ses plis et ses replis, comme si à force de triturations ils devaient en toucher du doigt l'énigme.
Il y a dans ces 19 titres quelque chose de l'émerveillement de l'enfance. Quelque chose de la jubilation insouciante et solaire de trois gamins qui s'amusent du libre jeu de leur souffle, de leurs doigts, de leur immédiate entente. Et c'est miraculeux, après tant d'années à jouer, d'avoir toujours en soi autant d'enfance.
Les morceaux sont brefs, une à trois minutes en général, cinq à six au maximum. Dès l'attaque, un monde est posé, un cap donné, un pouls pris. C'est infiniment structuré. Infiniment précis. Et en même temps toujours ça cherche, ça explore, ça creuse, ça bidouille, ça s'amuse, ça explose, ça rit.
On dit parfois qu'écrire c'est projeter sa voix à l'intérieur d'une caverne dont on ne connaît pas encore les dimensions ni la forme : projeter pour écouter comment ça revient, découvrir comment ça sonne, comment ça résonne, tenter de comprendre ce que c'est, ce cri qu'on a poussé. Pareillement les trois comparses ici lancent des astéroïdes de rythme et de son qu'on écoute passer par le pavillon de nos oreilles, aller frapper tout notre cortex, accélérer notre pouls. Le trombone tremble, vibre, vrombit, couaque, gargouille, glougloute, glapit, grésille, grasseye, usine. Parfois on le sent qui se régale d'aller un moment, avec la contrebasse et la batterie, flirter du côté du rock, scratcher, réveiller d'un coup un feu rythmique digne d'un carnaval, se muer rusé, souriant, en quasi fanfare.
Et puis tout de suite après de nouveau ça déraille, ça se distord, la soif d'étonnement et de tâtonnements reprend le dessus. Longues notes tenues sur fond de contrebasse et de batterie à peine effleurée aux pinceaux. Pales d'hélico qui passent. Cuivres tout en mélancolie qui poussent leurs longues notes, voilant soudain le son d'une tristesse splendide, lente, pulsée, tenue. Partout mues. Métamorphoses. Ruptures. Revirements de tempo, arrêts brusques. Lentos hallucinatoires, oniriques. Puis redéparts crescendo, jusqu'à l'extase.
« Et si j'attaque comme ça ? » « Si là je pique un sprint ? » « Si tout d'un coup je pile ? » « Chiche ? » « Pas chiche ? » « Chiche ! » C'est chaque fois comme un top que l'un donnerait aux autres, les mettant au défi, les stimulant. L'enfance, toujours l'enfance. Jusque dans les titres qui racontent la vie moderne frôlant joyeusement l'absurde, dessinant au fil de l'album un autoportrait en musicien déjanté plein de grâce et d'humour. Le monde contemporain est là, partout : ordinateur, virus, cheveux qui tombent au rythme de 75 par jour, tout ce qui collerait le blues si l'artiste ne jouissait du seul bien qui vaille, la seule raison de vivre : la liberté.
Ah, mettre les puces et les ordinateurs à genoux! Ah, se débarrasser du « jésuschrisme »! Avec une rage joyeuse, avec un humour virtuose, la musique d'Yves Robert joue. Avec la mélancolie aussi de celui qui sait qu'il n'est pas d'autre paradis.
Sylvain Prudhomme
Né en 1979, auteur de romans et de reportages, passionné par la musique ouest-africaine des années 1970-1980, Sylvain Prudhomme a raconté dans Les grands (Gallimard, 2014) l'odyssée d'un vieux guitariste à travers les ruelles du Bissau d'aujourd'hui, quarante ans après l'indépendance, sur fond d'idéaux révolutionnaires et d'espérances déçues.
YVES ROBERT Né en 1958, Il sillone les territoires de la musique (écrite, improvisée, visuelle, scénique) depuis près de 40 ans. Doté d'une grande technique, d'un timbre précis et dynamique, il joue du trombone avec fougue et liberté. Son style ample allie mélodies, et textures musicales ludiques comme autant d'histoires nourries d'images sonores.
BRUNO CHEVILLON, le plus graphique des contrebassistes, à la fois rapide précis et puissant à bas et haut régime, un pedigree impressionnant.
CYRIL ATEF, batteur grand sec et souriant, prince du tempo relax et ultra précis, un genre d'encyclopédie vivante du groove planétaire et astral.
Ce trio a dans les 20 ans, on ne sait plus et on ne veut pas savoir, il n'y a pas d'acte de naissance. C'est comme une évidence de familiarité et de confiances sonores instantanées.
Entre nous toute intention musicale est entendue et prise en compte.
Les mélodies se croisent, les rythmes et les modes de jeu se répondent, souplement, avec liberté. Bien entendu on peut changer, au gré de l'humeur, au gré de l'envie, et on ne s'en prive pas.
Entre amis on s'arrange, on s'arrange les morceaux, on les pète on les recolle, on exagère et on aime ça. L'important c'est l'intensité du moment, le plaisir de la surprise, l'émotion du jeu, le son, celui qu'on sort des instruments et qui nous enveloppe.
C'est pour ça, les effets électroniques, numériques, informatiques, audio digitaux : pour l'enveloppement. Malaxer la pâte, et l'étendre vers l'inouï.
Dépasser l'instrument par la jubilation. Intensifier la sensation d'être.
Jouer c'est célébrer l'absence du paradis.

Yves Robert
Remerciements / Acknowledgements:
Les aides et avis multiples, Geoffrey Grangé, Thierry Girault, J.Claude Exertier, Usine, Senso, Sylvain Thévenard, la princesse Co, Les nouvelles hybrides, Régine, Légendes, Françoise Bastianelli, Emouvances, Annecy Crr - Zixak, Le Semnoz, les Aravis…