Elemér Balázs Group
Refracting sounds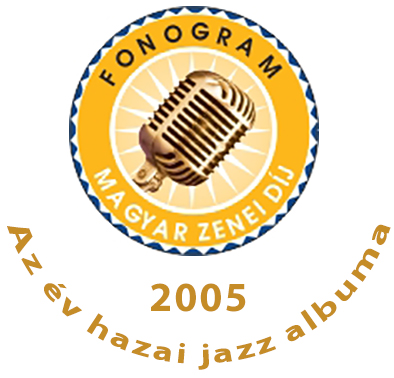 The album was awarded with the Fonogram Music Price in the category "The Hungarian Jazz Album of the Year 2005"
Refracting sounds, the third disc by the Elemér Balázs Group, is another snapshot of the journey the band has been making since it started, and on this album their unique vision becomes particularly clear, because the album contains only their own compositions.
---
About the album
Composed by József Balázs (1, 2, 11, 13, 14); Elemér Balázs (3, 8); Elemér Balázs and József Balázs (5, 7, 10); Gábor Juhász (4, 9); Gábor Juhász and András Dés (6); Gábor Juhász, Winand Gábor and András Dés (12)
Recorded at Studio 202, Budapest in 2004
Recorded, mixed and mastered by Péter Glaser
Cover art by Meral Yasar based on photo by Lenke Szilágyi
Portrait photo: István Huszti
Art-Smart by GBMY
Produced by László Gôz
The recording was sponsored by Credit Suisse, the Ministry of Cultural Heritage and the National Cultural Fund of Hungary
E. Balázs, G. Winand, G. Juhász, K. Hajdu, P. Glaser, A. Dés, J. Balázs | Photo: István Huszti
---
---
Elemér Balázs Group: Refracting sounds
08
Refracting sounds
3:28
The album is available in digital form at our retail partners
---
---
notes musicales en français - cliquez ici
Elemér Balázs, one of Hungary's best known jazz drummers, founded his group 4 years ago. The original line-up of the group changed at the beginning of 2004, but the aims of the band leader stayed the same: his goal is to create with his fellow musicians a sound world unique to them. A defining element in their music is the contrast of female and male voices, which also complement one another. The band tours regularly in Hungary, and is always present at big festivals. They have also made their mark on the international stage, giving successful concerts in Berlin, The Hague, London and Vienna. Their first album,
Around the world
(BMC CD 064), which features guest musicians Mihály Dresch and David Yengibarjan, was released in 2002 with a dedication by Pat Metheny. The following year saw the release of their second CD
Our worlds beyond
(BMC CD 086), featuring László Dés, Elemér Balázs snr, and the great American alto saxophonist and living legend Charlie Mariano.
Refracting sounds
, the third disc by the Elemér Balázs Group, is another snapshot of the journey the band has been making since it started, and on this album their unique vision becomes particularly clear, because the album contains only their own compositions. The strong visual impact of the pieces is largely due to the fact that some of them were originally written for the film
Getno
directed by András Salamon, and drew on improvisations inspired by the images: this inspiration was considerable in the birth of the other pieces too. Compared to the previous two discs by the Elemér Balázs Group,
Refracting sounds
gives a larger role to chamber music-making: the duos and trios exude intimacy, and through them the musicians open their innermost soul to the listener.
---
Elemér Balázs has been a defining figure of Hungarian jazz as a drummer and composer for around fifteen years now, and since 1995 has led his own band. He played in the band No-Spa, was a pillar of the Trio Midnight, and was the permanent drummer with the Creative Art Ensemble. He has taken part in many international jazz festivals, including Perugia, Marciac, Nuremberg, Zürich, Munich, Copenhagen, Tallinn, and has worked with Anette Lowmann, Stepko Gutt, Zbigniew Namyslowski, Jukka Perkó, Paolo Fresu, Stephane Belmondo, Gerard Presencer, Steve Houben, Lee Konitiz, Art Farmer, Pat Metheny and Al Jarreau. Elemér Balázs' solo career can be divided into two major parts: with his trio and quintet he made three discs – Fly bird in 1995, My new way in 1997, and then his first disc with BMC in 2000, entitled Always that moment, chosen as Hungarian Jazz Record of the year by Gramofon magazine. He has led the Elemér Balázs Group for four years.

József Balázs, one of the most talented pianists of the younger generation, debuted on his brother's album My new way. He has played with Erik Truffaz, Stephane Belmondo and Steve Houben, amongst others. He won second prize at the Gábor Füsti Balogh Jazz Piano Competition, and the prize for best soloist at the Cracow Jazz Juniors Competition. He formed his own trio in 2001, in which György Orbán and Péter Glaser play bass, and his brother Elemér plays drums. His exceptional compositional abilities are testified to not only in his own band, but also in Refracting sounds.

Gábor Juhász has worked with Károly Binder, was a founding member of the Tin-Tin Quartet, and an influential musician on Zoltán Lantos' Mirrorworld album. In 1990 he created the Off Course band with József Barcza Horváth and Róbert Szakcsi Lakatos, and in 1999 they recorded their first album Street of secrets, followed in 2002 by another album featuring Erik Truffaz (Tales of the lighthouse). His internationally famed partners include Archie Shepp and Iain Ballamy. He has played at festivals all over the world, of which the most memorable include Delhi, Jaipur, London, Frankfurt, Nuremberg, Leipzig, Berlin and Udine. In 2002 the critics of Gramofon magazine awarded him the Hungarian Jazz Prize. His first solo album 60/40, was recorded in 2004, and features as guest musicians the legendary trumpeter Palle Mikkelborg and the outstanding harpist Helen Davis.

Péter Glaser has been a much sought-after session musician ever since completing classical and jazz double bass at the Ferenc Liszt Academy of Music and has featured in many formations. He has worked with Gábor Gadó, with Győző Mohai and Mihály György in the band Handmade, and with the band Silent Way led by Mihály Farkas, on whose recent albums he has directed the production work. The music for the film Getno also testifies to his prowess as a sound engineer. He has worked with Elemér Balázs for many years, taking the place of Mátyás Szandai in the Elemér Balázs Group.

András Dés is, thanks to his talent and openness, increasingly well known and admired. He started his studies on classical percussion instruments, then turned to various types of folk music. He recently graduated from the jazz department of the Ferenc Liszt Academy of Music. He has played and recorded with Frank London and Dave Liebman, the Budapest Jazz Orchestra, the Bosambo Trio, Erik Truffaz and Off Course, the Kaltenecker Trio and Palle Mikkelborg and Gábor Juhász. He has taken part in many recordings of music for film and theatre.

Gábor Winand's unique voice has made him the most sought-after singer in Hungarian jazz. He has worked with the ESP Group, and was the guest artist in the Trio Stendhal for two years, played with Gábor Gadó's band Joy, in Brass Age, in György Vukán's CAE trio, the Class Jazz Band, and in Bosambo. He can regularly be heard at the side of his wife Elsa Valle in Cuban jazz productions. His first solo album, Corners of my mind, was a huge success: in France it was voted album of the year by the critics of Jazzman magazine. His second album Agent Spirituel, like the first, is made up of Gábor Gadó's compositions, and was received extremely well. On his most recent CD Different Garden he is accompanied by Gadó and Kristóf Bacsó.

Klára Hajdú studied jazz singing for five years in Szeged. She has studied at the jazz department of the Béla Bartók Music Conservatory for two years. In 2001 she won the first prize in the solo voice category of the Sony Talent Competition, coming third overall. She finished among the best 16 singers of the Hungarian tv2 Megastar competition.

Thanks to Credit Suisse, Szilvia Farkas, Ágnes Gergely, Sándor Karácsony Foundation, Mentha ISP, Péter Glaser, Lisa Mónika Tibenszky, Csilla Patkó, Panni Hegedűs, Péter Sarlós, Zoltán Kiss, Áron Pető and my family.

Special thanks to film director András Salamon and producers Gábor Varga and Zsuzsanna G. Hollósi for making the music of the film Getno available for this CD.


---
Elf

Jokes and tricks you know he's there
Hits and kicks he tries to bear
The show he's in the nights awake
He hates this scene the smiles you fake

He dreams about the angel on the wings
And they are flying home

Sure he knows he's always right
Sure he calls on sleepless night
The one to save his silent dark

The one to take his sightless mark

He dreams about his angel
on the wings
And they are flying home


Deep colours

Deep, the red of our blood
Deep, the silence of the God
Deep, the green of raising plants
Deep, the pain in our hands
Let(s) me know, where to go

Someday, we'll find
We'll get the answer
We'll leave behind
The restless mind
Deep, the blue of our sky
Deep, the power of a lie
Deep, the yellow of the sun
Deep, the anger of a gun
Let(s) me know, where to go

Someday, we'll find
We'll get the answer
We'll leave behind
The restless mind
Deep, the black of sudden death

Deep, the sorrow man can threat

Deep, the white won't let you get
To know, where to go


King's farewell

He said his time has gone,
He knew his enemy had borned

His eyes were sad but hard
In fact, he was old and tired

He was the king of souls,
Of dreams, of hearts. He goes

away on his hidden track
He knows, no one wants him back


After the storm

Taste our wine, don't be shy
Join the camp, my friend
See the sky, opened wide,
Clear as ice, our land

Waits for you, things to do
Don't be scared, my friend

Hold the sky, opened wide
Clear as iceberg

Sing our song, we're not wrong
On the hill, my friend
Feel the rain washed our pain
Out of crying sand

Learn our dance, feel the trance
Smell the breeze, my friend
Hope the rain takes our pain
Bring us calmness

You're the only one to tell this tale
After the storm

Lyrics by Viktor Hárs