Grupa Palotaï
minimyths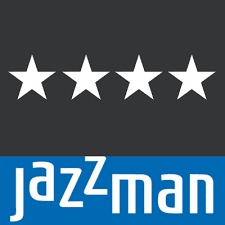 GRUPA Palotaï was formed in the Café of the Conservatoire National Superieur de Musique of Paris in 1999 and has been functioning in trio, quartet or quintet form since.
---
Artists
Csaba Palotaï - guitar
Rémi Sciuto - sax alto, sopranino, barytone (2, 4, 5, 10, 11)
Thomas de Pourquery - sax alto, soprano (1, 3, 7, 8, 9, 10)
Didier Havet - sousaphone
Nico Mathuriau - drums
---
About the album
All compositions by Csaba Palotaï
Recording engineer: Sylvain Thévenard
Recorded at Axel Record, Paris
Mixed at La Buissonne Studio, Pernes Les Fontaines
Mastered at Altho, Lyon
Cover art by Meral Yasar based on photos by István Huszti
Portrait photo: István Huszti
Design: Meral Yasar
Architect: Bachman
Produced by László Gőz
The recording was sponsored by Défi Jeunes (Val de Marne), the Ministry of Cultural Heritage and the National Cultural Fund of Hungary.
Csaba Palotaï | Photo: István Huszti
---
---
Grupa Palotai: minimyths
07
very hot clubs (and
4:52
09
our grandfathers)
3:41
10
the transylvanian myth
6:09
11
zou, bye, ciao...
3:11
---
csaba palotai (guitar, composition) was born in 1972 in Budapest. He was a student at the Jazz Department of the Ferenc Liszt Academy of Music for three years, and is a graduate of the Paris Conservatiore. He studied under Sándor Horányi, Gyula Babos, Gábor Gadó, J-F. Jenny Clark, Riccardo Del Fra and François Jeanneau. He has played with the Egon Bondy Quartet and Imre Kőszegi's group in Hungary, and with the Orchestre National de Jazz and the Rural Swing Couartette as well as with François Jeanneau, Christophe Monniot and Matthieu Donarier in France. He has toured France with the Phénix music-theatre touring company. In 2001 he was commissioned to compose the music to accompany a French short film. As an orchestral leader he works with singer Laurent Madiot.

didier havet (helikon) was born in 1964 in Lille (France). He is a well-known member of French jazz life. He has participated on many recordings and played in all four formations of the Orchestre National de Jazz under François Jeanneau, Antoine Hervé, Denis Badault and Paolo Damiani, as well as in the groups of Martial Solal, Archie Shepp, Lester Bowie, Laurent Cugny, Jon Handelsman, Claude Barthelemy, and the New York Mingus Big Band.

rémi sciuto (saxophone) was born in 1976 in Paris. After graduating from the Paris Conservatoire he became the soloist of the Patrice Caratini Orchestre and the Sacre du Tympan Orchestre. He is also a member of the Compagnie de Musiques a Ouir.
In 2000 he won the Best Soloist Prize at the Concours National de Jazz de la Défense (the most significant jazz competition in France). In 2001 he founded the Collectif 1 an du Lapin Artists' Union.

thomas de pourquery (saxophone) was born in 1977 in Bondy (France). After graduating from the Paris Conservatoire he became the soloist of the Orchestre National de Jazz and the Laurent Cugny Lumiére Big Band.
In 2002 his band, the Zimmerman – de Pourquery Quintet won first prize at the Jazz Competition of the Défense, while Thomas de Pourquery won the Best Soloist Prize.

nico mathuriau (percussion) was born in 1974 in St.Vallier (France). He graduated from the Conservatoire National du Région de Strasbourg, where he obtained his degree in the Faculty of Contemporary Music, majoring in vibraphone and marimba. He subsequently earned a degree at the Paris Conservatoire, where he majored in jazz-vibraphone. He was a student of Daniel Humair. He has worked under Georges Aperghis and Theodor Geschelbauer in the Strasbourg Philharmonic Orchestra, and in Gábor Gadó's quartet.


Didier, Sylvian, Nico, Rémi, Thomas, Nat & Gábor, Babos, Horányi Sanyi, Jean Lagaron, Riccardo del Fra, Alex L., Gérard de Haro, my family and anyone else I've forgotten to mention... thanks for the encouraging words!