AKI TAKASE | DANIEL ERDMANN
Isn't It Romantic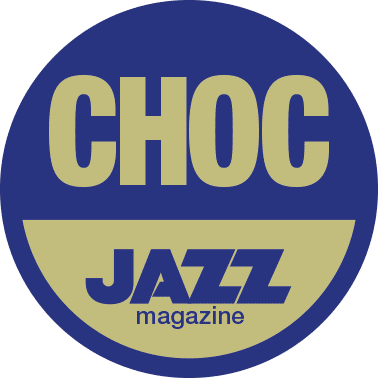 This CD is a dialogue between two musicians sensitive to the problems of the world, where the saxophone and piano not only concur, but sometimes even dare to contradict one another. Aki Takase and Daniel Erdmann were teacher and pupil but became colleagues, and following the quartet Japanic, they are now recording as a duo, in the studios of BMC Records. The album Isn't it romantic? points whimsically back to the history of jazz through the most personal stories, and all the while their playing is marked by clear contours, romance, a story-telling bent, and spontaneity.
---
Artists
Aki Takase – piano
Daniel Erdmann – saxophone
---
About the album
Recorded by Viktor Szabó at BMC Studio, Budapest on 3-4 August, 2020
Mixed and mastered by Maïkol Seminatore at The Border Studio in Bagnolet, France

Artwork: László Huszár / Greenroom

Produced by László Gőz
Coproduced by Das Atelier
Label manager: Tamás Bognár
Aki Takase, Daniel Erdmann, photo: Dirk Bleicker
Aki Takase, Daniel Erdmann, photo: Dirk Bleicker
---
---
Isn't it Romantic?
04
Good Bucket Quick Step
4:44
06.
No Particular Night or Morning
2:00
07.
An jeder Kreuzung liegt eine Erinnerung begraben
2:52
09.
A Small Step for Me
4:37
10
Reconstruction in Berlin
3:47
13
Isn't it Romantic?
4:34
The album is available in digital form at our retail partners
---
---
ISN'T IT ROMANTIC?
Three years ago they met quite unexpectedly in a parallel world, somewhere between escalators, shopping malls and terminals, in the middle of the Paris-Charles-de-Gaulle airport. Flitting from concerts in various different places, on their way to different destinations. By chance. Yes, out of chance, music can be born, says Aki Takase, laughing like John Cage. It was just the right moment, says Daniel Erdmann. Aki and Daniel have known each other since the 1990s in Berlin. Back then, Daniel Erdmann studied with Aki Takase, and also played in her ensemble, pieces ranging from Eric Dolphy to original compositions. In the meantime about twenty-five years have passed. Daniel Erdmann's path has taken him to France. And since then he has travelled internationally with lineups such as Das Kapital and Velvet Revolution. Aki Takase was constantly present with various line-ups, solo programmes, bands and even with duos: musical dialogues with Alexander von Schlippenbach on the second keyboard or Han Bennink on percussion, especially good with wind players like David Murray, Rudi Mahall, Silke Eberhard, Ingrid Laubrock and Louis Sclavis.
Aki enthuses: 'I love duos'. She says a duo would be her favourite line-up because both partners are one hundred percent equal, because it's clear, and because it sounds good. Daniel Erdmann is partial to duos too, a form of collaboration he has practised in several contexts. The chance encounter between the two of them in the Paris airport couldn't pass by without some follow-up. Daniel says that it had to be that way. He was ready for a new collaboration with Aki. One outcome is Aki Takase's band 'Japanic' with Daniel Erdmann on tenor sax. Another is the duo, who now releases their first album.
For Daniel Erdmann, playing with Aki pulls you up. It always gives him strength and is very demanding. Aki Takase feels just the same way: things go higher and higher, and take off. And she has a huge compliment ready for Daniel Erdmann: he is a real jazzman. Sure, there are many interesting musicians. But the connection to the source of strength of jazz gives the playing a certain quality, even (and especially) when it pushes into innovative realms. Aki Takase celebrates the link between tradition and contemporary through projects she has dedicated to Fats Waller, W. C. Handy, Eric Dolphy and Ornette Coleman.
In Daniel Erdmann's playing, the link to the renewable energy of jazz is constantly present. Even if it sounds completely different to Coleman Hawkins, Archie Shepp, or Heinz Sauer, with whom he also plays in a quartet – Daniel Erdmann is of this lineage and knows the only way he can continue is by positioning himself with a very personal voice on his instrument.
Another thing that connects the two of them is an openness to problems around them, a broader outlook and affinity for other branches of art such as painting, dance, and literature. Daniel Erdmann collaborates with the dancer Nicolas Fayol and with the painter Jean-Michel Hannecart. Aki Takase has long been involved in projects with dancers. She was closely linked to Anzu Furukawa and has also found an inspiring partner in Yui Kawaguchi. Her collaboration with the writer Yoko Tawada has already spanned more than two decades. What makes all these cooperations so exciting is the looking outwards, and trying out one's own artistic voice in dialogue – something like a state of mind, that also flows into these conversations between piano and saxophone.
Aki Takase and Daniel Erdmann began collaborating as a duo in 2019 and they intensified their work during the first Covid lockdown in early 2020. With him at home in Reims, she in Berlin, they tried various methods of long-distance digital communication and eventually agreed on a trimester of joint rehearsals each Wednesday. In spite of the restrictions, they both say there was a positive aspect: total concentration on the project. When in summer a small time window opened for travel, they met to record this album over three days at the beginning of August in the Budapest studio of BMC Records.
You can sense the atmosphere was relaxed and that they were really focussed on the musical moment. Especially accurate in the unison passages, they allowed themselves plenty of freedom in the improvisations. The way they listen to and react to each other, the way they complement or contradict one another sometimes shows them to be on the same wavelength. They have internalized the pieces, and this permits them to distance themselves from them. The high degree of unity between them allows them at times not to follow, but rather to oppose one another, which makes their pathway all the more captivating. The piano, angular and precise, knows how to trace the musical contours and yet can also be romantically indulgent. The saxophone, always animated, rhapsodic, narrative, finds the emotional equivalent in this dialogue, expressing the most personal things but at the same time could be understood as a comment on our time: turning towards life, vibrating with positive energy.
That this music describes or illustrates nothing concrete is part of its power. The titles of the pieces form a kind of web of associations the listener doesn't necessarily need to follow. Nevertheless, mention should be briefly made of what they refer to. Sans Sulfites refers to a movement among French winemakers to make natural wines. Festa Magdalena is dedicated by Aki Takase to the Mexican painter Frida Kahlo she admires so much, and whose life and work she has long been interested in. Voodoo Girl takes its title from a poem by Tim Burton, while Good Bucket Quick Step is from an idea by Aki's partner, the pianist Alexander von Schlippenbach. Elevation was written by Daniel Erdmann to a poem by Paul Éluard, transforming the atmosphere and the prosody of the text into music. No Particular Night Or Morning by Aki Takase refers to a science-fiction story made famous through the novel Fahrenheit 451 by the author Ray Bradbury. An jeder Kreuzung liegt eine Erinnerungen begraben connects Daniel Erdmann the memories of his driving lessons in Berlin, which led to his driving license, though not (he freely admits) at the first attempt. Magic, a piece by Aki Takase in 5/4 time, exudes an oriental feel, and as both of them note, is an example of the importance of sending out positive feelings into the world. A Small Step For Me was composed during the first lockdown. After five weeks of isolation Daniel Erdmann was able to go outside for a walk for one hour at most, in a radius of maximum one kilometer from his home in Reims. The piece reflects his experience in a "strange cotton-wool world" as Daniel puts it. Reconstruction In Berlin relates to Aki Takase's project 'Die Stadt im Klavier', in which together with dancer Yui Kawaguchi, she explores the relationships between city life, sound, and movement. Musically speaking, the piece was inspired by Conlon Nancarrow and the coexistence of different rhythms and tempos. The Cat is Daniel Erdmann's dedication to his cat (that of the entire household), whose very own voice can be heard at the end of the piece. Pascale, on the other hand, is dedicated by Aki to Daniel Erdmann's wife. The sample inserted at the end uses a recording made by a Japanese musico-anthropologist while doing field work in Mozambique. Isn't It Romantic, with its playful take on jazz history, guarantees a lively ending. To reiterate: the titles are references to the situation of the music in the here-and-now, in history and the present, most especially in personal experience. They are not an instruction manual. Everyone must find their own way into this music. The doors are open for all.
Bert Noglik
Translated by Richard Robinson